What can be better than going on a vacation to some pious place, where you can witness a traditionally equipped country's culture as well as listen to divine prayers? If you are someone who is planning to visit India, you can't leave without visiting the beautiful Golden Temple.
Golden Temple is said to be the holiest Sikh Gurudwara (a holy place where people belonging to Sikh religion, assemble to pray) It not only welcomes the Sikhs, but attracts several people from different cities, religions, and even countries. It is situated in the city of Amritsar, Punjab, India. The original name of Golden Temple is The Harmandir Sahib, which was designed by the fifth guru of the religion named Guru Arjan, who had also completed the Holy Scripture and had installed the same in the Gurudwara, in the year 1604.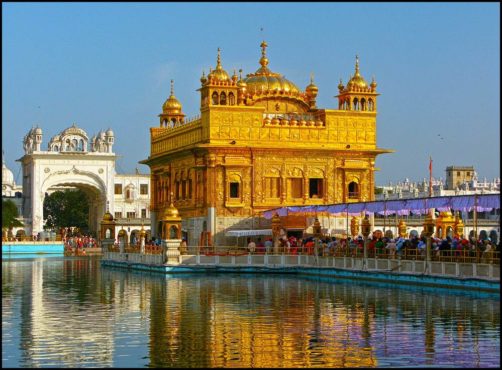 The beautiful ceiling of Golden Temple is carved with various precious stones and gold. It looks ravishing and shining at nights; people surround its glorious appearance to appreciate the way it looks and shimmers.
You can sit outside and meditate for as long as you wish to; there's absolutely no one who even tries to disturb you. Moreover, you can cleanse your soul and all the sins that you've known or unknowingly committed by taking a dip down the holy water surrounding by golden temple.
Top three reasons to visit Golden Temple:
• This place is a very famous in the country and several people visit it just to enjoy its scenic views.
• When you visit Golden Temple during Vaisakhi, which is one of the most prominent festivals of Sikhs, you fall in love with the way it is decorated. It looks like a beautiful Indian bride hiding herself behind her colorful veil and decorated with gold jewelries.
• You get to listen to a beautiful prayer called Gurbani. There is something really special in this prayer that when the beautiful holy words fall on your ears, most of your problems, stress and pains disappear in almost no time at all. You simply dedicate yourself to the pure and sacred environment of this location.
October to March is perhaps the best period to visit this divine location, since it is winter in the city. Summers are really tough in this city.
source: wikipedia.org