Top 9 Modern Architectural Wonders
8. Petronas Towers, Kuala Lumpur, Malaysia
Standing at 452 m high the Petronas towers in Kuala Lumpur city is the tallest twin towers in the world. This iconic towers are symbols of culture and economic growth of Malaysia. The Petronas twin towers were built back in 1998 and officially opened in August 1999. The Petronas towers remained as the tallest building in the world until they surpassed by Taipei 101 in 2004.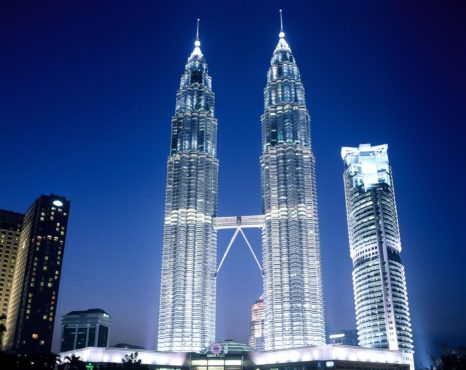 The Petronas towers were designed by Argentine American architect Cesar Pelli. There were 33000 stainless steel and 55000 glass panels used for the design for Petronas towers. There are 88 floors in each tower. The special panels of the twin towers also feature light filtering and noise reduction properties. The glass façade of the twin towers resembles Islamic art motifs.
The Petronas towers features a 58.4 m long two storey sky bridge at 41st and 42nd floors. It is the highest two-storey bridge in the world. The interior of the Petronas twin towers features carvings ad fabric designs. The twin towers provide a total area of 4,252,000 square meters and the space above the 41st level are occupied by tenants.