Top 9 Modern Architectural Wonders
7. Queen Sofia Palace of the Arts, Valencia, Spain
The Queen Sofia palace of the art is an amazing opera house and cultural center located in Valencia City of Spain. It is known as Palau de les Arts Reina Sofia in Spanish. This modern architectural marvel was designed by globally popular Spanish architect Santiago Calatrava. The construction started in 1995 it took 10 long years for the completion. Today it is a popular landmark of Valencia City and one of most beautiful opera houses in the world.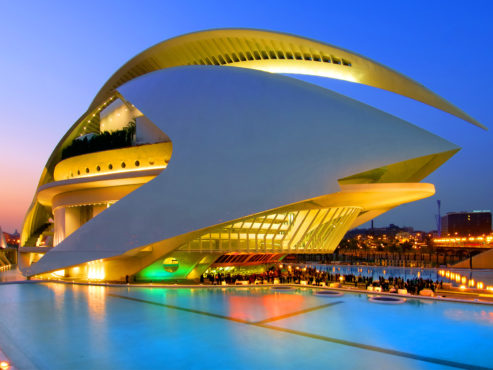 At a height of 75 meters the Queen Sofia palace of the arts is the tallest opera house in the world. It is a 17 storey building, has 3 storeys below the ground and 14 stories above the ground. The swooping mosaic roof is the most impressive part of Valencia opera.
The feather like roof if the opera has a length of 230 meters, constructed with laminated steel. The white concrete and delicate mosaic works, gives all time luminosity to the outer surface of the building. There are three separate sections that designed for operas, musical performances and conferences.